Wyald: Apostle with Custom Guts
- Wyald
- by Getsurou
- scale 1/20
- limitation < 100
- Guts
- by Art of War
- scale 1/20
- limitation ?
- project finished 12.4.05
- estimated value of kit alone: $150+
- pictures uploaded 12.8.05
- painter: John Allred
Well this was a pleasant surprise! I was never a huge fan of this kit, but I did appreciate the fact that it's quite tall (around 30 cm). I thought the kit could have had more detail, given the size of it. The pose is pretty static as well, but that didn't bother me too much, especially since it was modeled after a specific scene (see below). So, I just sorta sent it out to John in hopes that he will bring the kit to life.
Upon receiving the kit, John asked if I had any special requests to maybe spice things up a notch. I thought some limbs and intestines lying around would be nice, and some blood seeping out of Wyald's Apostle mouth would be appropriate. I also showed him several pictures of Wyald tearing things up and battling with Guts. I asked him to paint some battle scars (such as the wound he received above his lip when Guts stabbed him). John took note of all of the details and followed through as usual.
However, when he showed me a mock-up of the dead body lying in front of Wyald, I thought maybe the body wasn't the appropriate scale, and it didn't add too much excitement to the piece. So, John noticed there were tons of soldiers in the manga scans I sent him, so he found a nice little Lord of the Rings figure of a soldier riding a horse that he could use for the kit. The scale was perfect and I LOVE horses so I was all for it. So he painted it up and everything, but when I saw the final pictures, I realized that it just didn't look right. No one in the story could stand up to Wyald's Apostle form. Everyone was screaming and running for their lives. And when I saw this LOTR soldier valiantly facing Wyald in battle, I thought it gave the wrong impression of the scene. ONLY GUTS can be facing Wyald. And so, I remembered that Art of War made a mini figure of Guts: Maken for Volume 5, and I decided to go with that figure instead.
John had to made some modifications to the original AOW Guts figure. He heated the plastic so he could bend Guts' neck to look upwards, and his arms to hold his sword in front of him, as seen in the manga. John also repainted the entire figure and painted Guts face in such a way to show distress and concern, because the original AOW Guts looked very calm and composed. I didn't want John to go crazy on the face expression though, just something subtle. I thought it would be more powerful this way, and in the end, John did an excellent job adding a hint of worry on Guts' face, especially since the head is not even bigger than half an inch!
As for Wyald, I was super pleased with the way the muscles, mouth, and eyes turned out. The mouth and lips look so disgusting it's awesome! And I think the colors John used are perfect. Because Wyald never appeared in color in the manga, there is no real way for me to know what color he is! I could only speculate that the fur is white and that's about it. Needless to say, the colors John used look totally fitting and the blue eyes were an excellent choice, because now they really stand out and glare right at you! Attaching the limbs together was tough too, because John had to blend the joints with putty, and then use a dremel to carve in some indents to make the fur look seamless.
And so here it is! A beautifully painted kit of Wyald facing the almighty Guts! I couldn't be happier with the way it turned out. This piece has easily shot straight up to be one of my favorite ones, and you all know how many Berserk models I own. =) Getsurou did an awesome job recreating Wyald, despite my initial impressions. This kit rocks! And of course, a big thanks to John, as always, for dealing with all of my requests and for painting up the LOTR figure only to end up not using it at all. But man, I'm sure glad we didn't end up using it, because there's NO WAY it would have looked as good as the way it does now! Enjoy the pictures!
(note: all pictures by John Allred, himself)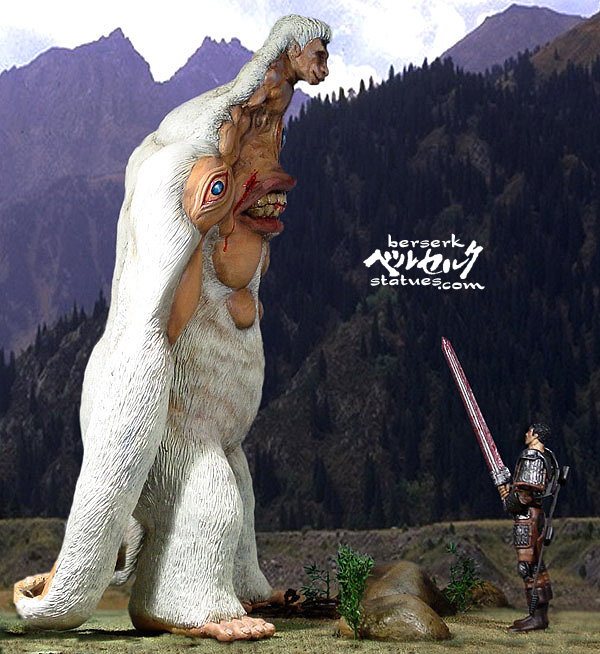 In-Progress Pictures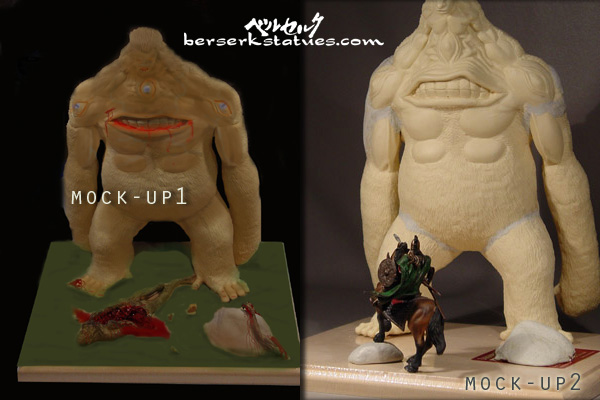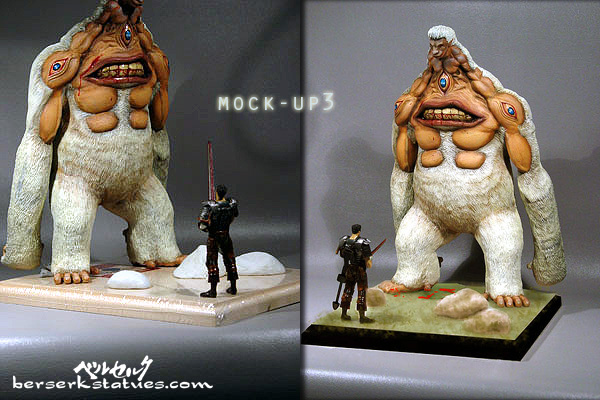 Finished Pictures