Zoddo: Apostle with Custom Guts and Diorama
- Zoddo
- by Headlong
- scale 1/35
- limitation < 100
- Guts
- by Yujin
- scale 1/20
- limitation < 1000
- project finished 6.8.05
- estimated value of kit alone: $75+
- pictures uploaded 6.9.05
- painter / custom sculptor: John Allred
Where do I begin? How can I possibly describe the intense sensations that run down my spine when I gaze upon this recreation of the "Reunion on the Hill of Swords"? This build-up is more than I could have ever asked for. Lord Allred went all out on this kit... and I really mean ALL OUT.
Let's start out with Zoddo himself. First off, the original kit had 2 horns so I asked John to chop off the left one so it would be more accurate to the story/scene. It's weird to see Zoddo with 2 horns anyways =P. Then, we come to the fur... JUST LOOK AT THE DAMN FUR!!! Can you say um... realistic? And speaking of details, he even painted frosty tips and added a gloss on the face and whiskers to help emphasize the snowy environment. It's difficult to see in the lighting in most of the pictures, but you can tell in this picture.
Then, let's move to Guts. This originally was a clear gashapon figure (a very small rubbery capsule toy) that came with the 4-figure-gashapon-set released by Yujin several years ago. It's only a few inches tall so it's basically a miniature. But since the size is so small, John and I agreed that this figure would look very fitting next to this particular Zoddo kit. The scale is pretty much perfect, as well as the pose. However, John did more than just paint the figure, he removed the cape (since prior to this particular scene, Guts gave his cape to warm Casca and therefore wasn't wearing it during the battle) and thus had to fill in the back with sculpty. John also repositioned Guts' right arm so he could hold the sword above his head, resulting in a much more exciting pose. And lastly, John painted Guts to look very worn out and pale (due to both the cold weather, and the fact that poor Guts never gets a decent night's sleep).
And now, we come to the diorama... When I first proposed the idea to John, I knew it would require a good deal of extra time and effort to create a snowy environment, with elevation changes, and pine trees, and rocks, and footprints, and of course... several swords sticking up from the ground! But man, John really hooked me up here. Each and every sword is unique, and he even designed them to resemble the swords pictured in the handful of manga scans I sent him. That definitely shows thought and his attention to detail! And besides the swords, he sculpted the base entirely from scratch and created the snow effect by actually using that snow-sprinkle people use for Christmas trees! How smart, huh? Hehe. There is also blood splashes on the snow, though you probably can't tell from the pictures. ~Sigh~ pictures can only do so much!
Anyways, I've rambled for long enough, please look at the pictures below and enjoy them. I can't thank John enough for this build-up. He really put a lot of effort into it and dealt with all my requests professionally and meticulously. His talent is still way beyond anything I could have ever imagined when I first became interested in Berserk kits, and I just can't wait for him to work on all my other ones. I don't know how he will be able to out-do this piece, but for some reason, I have a feeling that John is just full of surprises =).
(note: all pictures by John Allred, himself)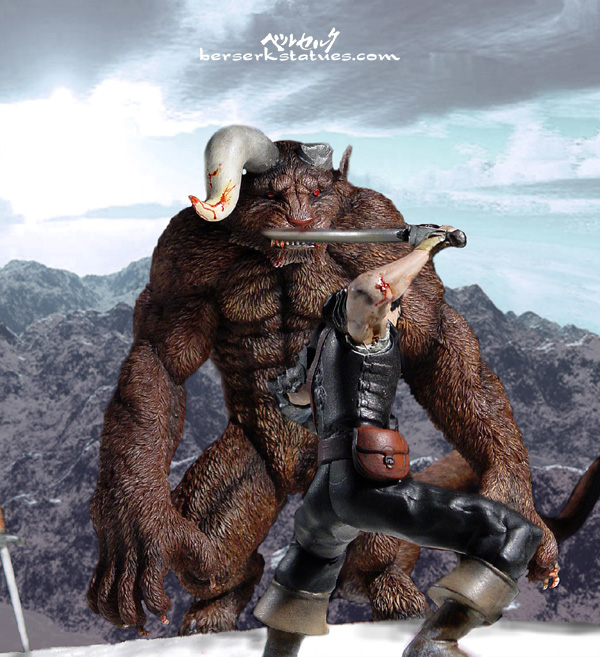 Mock-up Pictures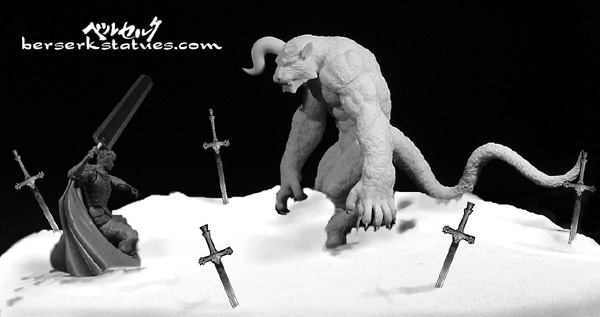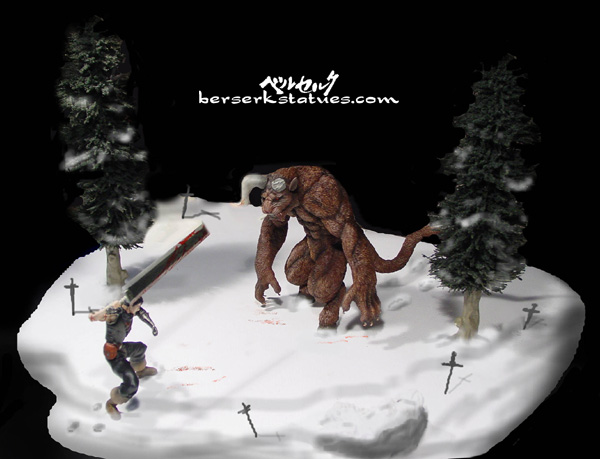 Finished Pictures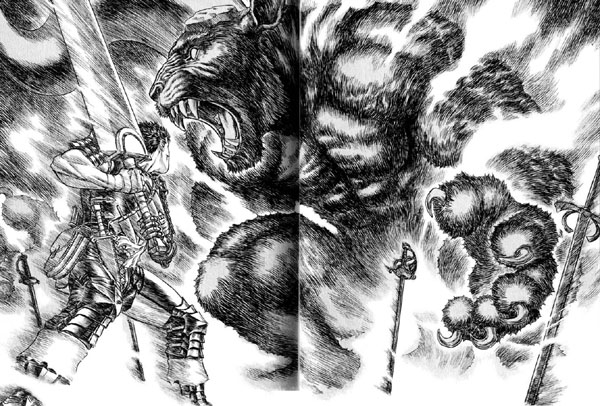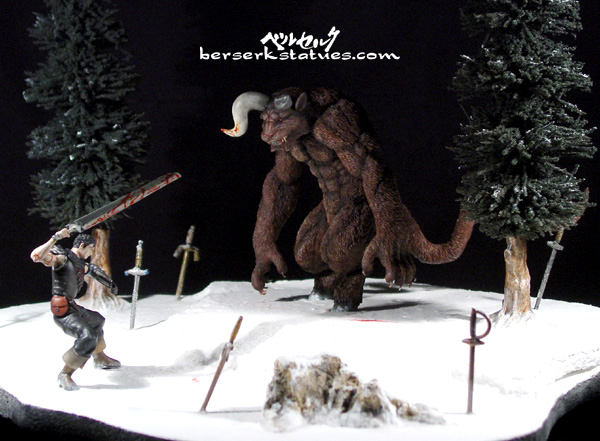 (click picture to view large version)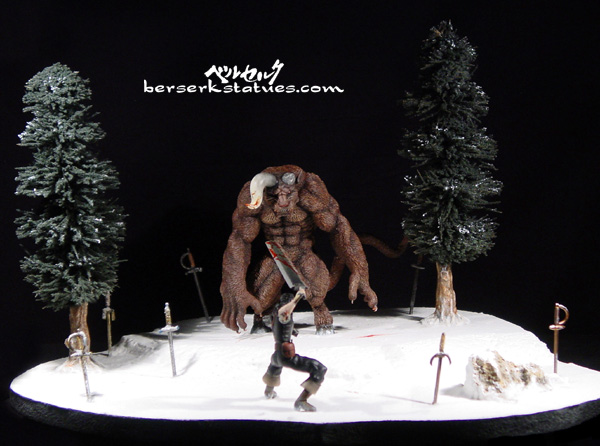 (click picture to view large version)