Skullknight: Bone
- by Headlong
- scale 1/10
- limitation < 150
- project finished 10.26.05
- estimated value of kit alone: $100+
- pictures uploaded 10.27.05
- painter: John Allred
Soooo, originally, I had John paint up my Skullknight in silver. However, when the finished kit was delivered back to me, it got incredibly damaged and impossible for me to repair. We're talking about chipped paint, limbs all over the place, spikes snapped off, a detached head... the list goes on. It was very traumatizing! Fortunately, all the of the breaks were clean and at the joints, so no actual kit parts were broken. Anyhow, I immediately called John and we came to the conclusion the best solution would be for him to just repaint the entire thing.
So after several months, I shipped Skullknight back to John (I waited so long because I was trying to get some sort of compensation from the post office but they were just a bunch of up-tight bastards). Since John had to strip away all the paint and start from scratch, I decided I might try something a little more edgy than the silver look. Even though, it's generally accepted that Skullknight is silver, there are a few illustrations where Miura colored him bone. So, I decided to go with this paint scheme this time around, and John agreed. Actually, bone is one of his specialties!
And well, what do you know... look how the kit turned out. As my friend, Maiku, stated, "Wow, that's un-real man... freakin' UN-REAL." And yes, I would have to agree. It turned out even more gorgeous than the way it looked before! Maybe the fiasco with the postal service was a blessing in disguise. Don't get me wrong, I loved the silver paint up John did last time. But wow... look at this one! Skully has never looked better!
From the detailing on the armor, to the shield, to the muscles, I couldn't be more pleased. In fact, it would be impossible. Thanks so much, John, for the extra effort and the willingness to work on this kit again, after all the trouble. I've said it before, and I'll say it again. You're da man!
(note: all pictures by John Allred, himself)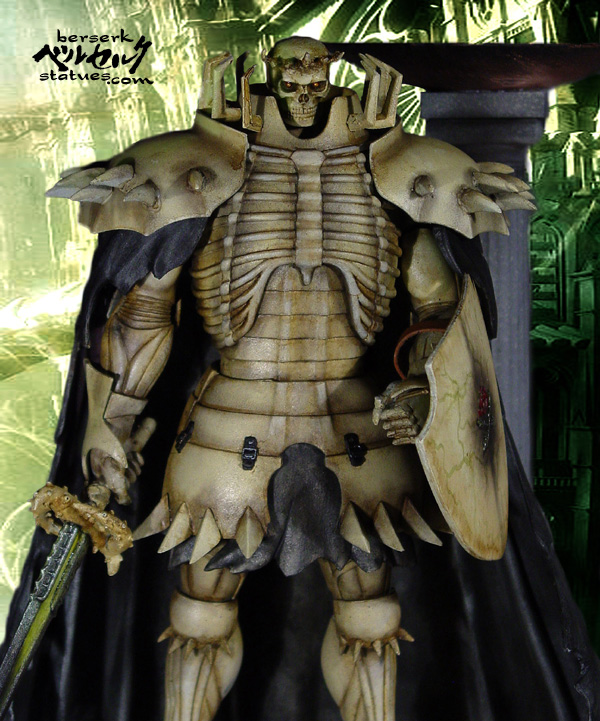 In-Progress Pictures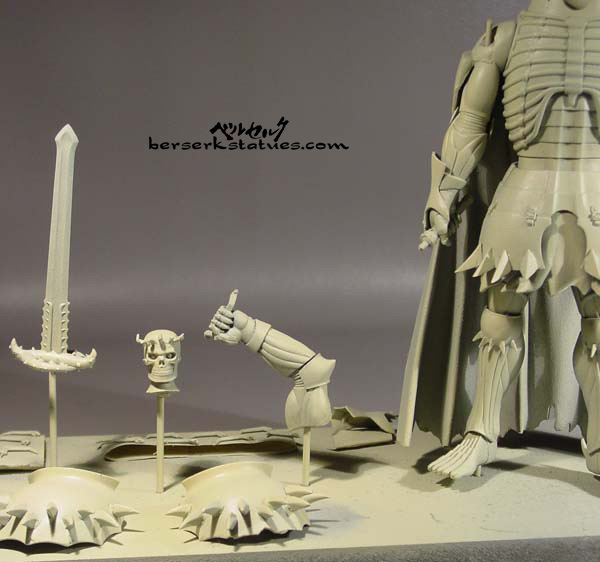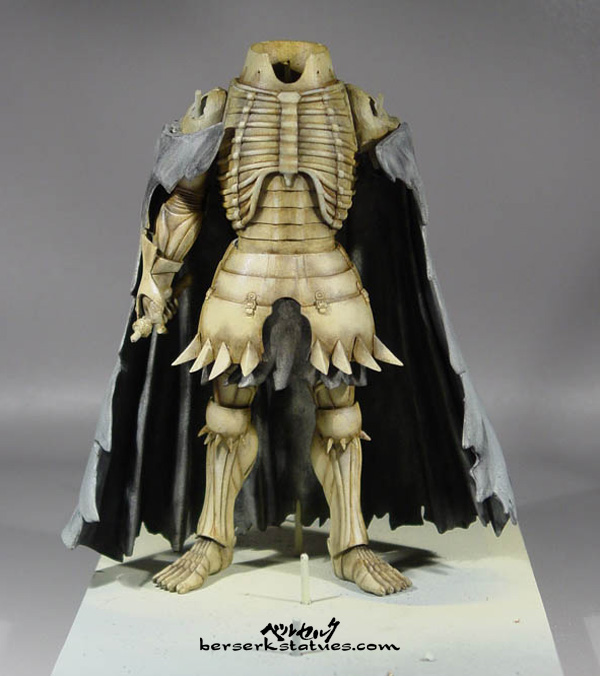 Finished Pictures